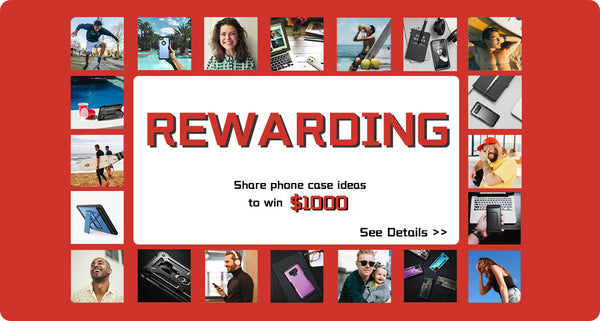 The entire team of Youmaker is thankful for your love and support. We have been satisfying our valuable customers by developing good quality mobile phone cases ever since 2016 when our brand was established.
Now, we are seeking to take a step ahead in serving our customers with the best services and products. Hereby, we are requesting our existing and potential customers to send their suggestions and innovative ideas regarding mobile phone cases that would help us improve our brand and serve you with better mobile gears.
You can send us an idea or suggestion that you have in your mind which could redefine our mobile phone cases. We are more than happy to welcome all your suggestions that would help improve the design of new mobile phone cases that we have not offered before.
For each suggestion and idea, we would be pleased to giveaway Thankyou Gifts in the form of:
Phone case: Every user who takes part in this event and sends us a suggestion regarding our mobile cases will be given a Mobile Phone Case as a Thankyou Gift.
Cash Bonus: If your ideas and suggestion are beyond par, and our professional design team decides to use it in producing new mobile phone cases, you will be provided with an additional Cash Bonus of up to $1000. The decision would be taken after consulting with the Professional Design Team of Youmaker.
You can give suggestions and ideas regarding all features of a mobile phone case including the appearance i.e. the graphic design, structure, function, and usability of the mobile phone case.
Here are some features that you can give suggestions and ideas for:
The Kickstand: You can give ideas on how to redesign the kickstand present at the back of the mobile phone case. We would like to perfect the use of the kickstand so that it is suitable for all kinds of users. You can give suggestions and ideas on how to make it look delicate as well as simple yet improving the functionality.
The Graphic Design: You can give your innovative ideas and suggestions regarding the graphics and patterns at the back of the mobile phone case. We are more than happy to welcome your innovations in terms of designs and graphics for mobile phone cases.
Redefining the functions: You can give suggestions on how we can improve the functions of the mobile phone cases. Your ideas are needed on how we could combine other products with the functionality of our mobile phone cases. We would need your feedback on what are the requirements of our customers for their daily use as well as special occasions so that we can incorporate the required products with our mobile phone cases. One such product is combining Air Pods with Mobile phone cases.
The above three are just a few categories to give you a start-off. Any idea or suggestion beyond these features is welcomed.
Your Ideas & Suggestions must have an Explanation
All the ideas and suggestions should be backed with an explanation as for why you are suggesting such an improvement in the design or function of the mobile phone case.
For example, if you are suggesting that we combine our mobile phone cases with Air Pods then you shall explain the need for this combination. You can give us your opinion regarding it such as your daily use of Air Pods during work hours as well as your personal time. Moreover, if you are suggesting to improve the kickstand than you shall give details as to why this improvement is needed.
Your explanations about your suggestions and ideas of improving our mobile phone cases would help us improvise our mobile gears and provide you with better mobile phone cases.
You can contact us through the below mentioned SNS or by email. You can also send your comments and private message us on Instagram or Facebook. Our customer representative will reply to you as soon as they see your message.
Contact us: sanzhutech2016@gmail.com
Facebook:@YOUMAKER
Instagram:@youmakercase
Through this activity, we are trying to make a big change while perfecting our brand so that it can serve our customers with the utmost satisfaction.
We hope that this event brings out the best for us as well as for you all as our existing and potential customers!